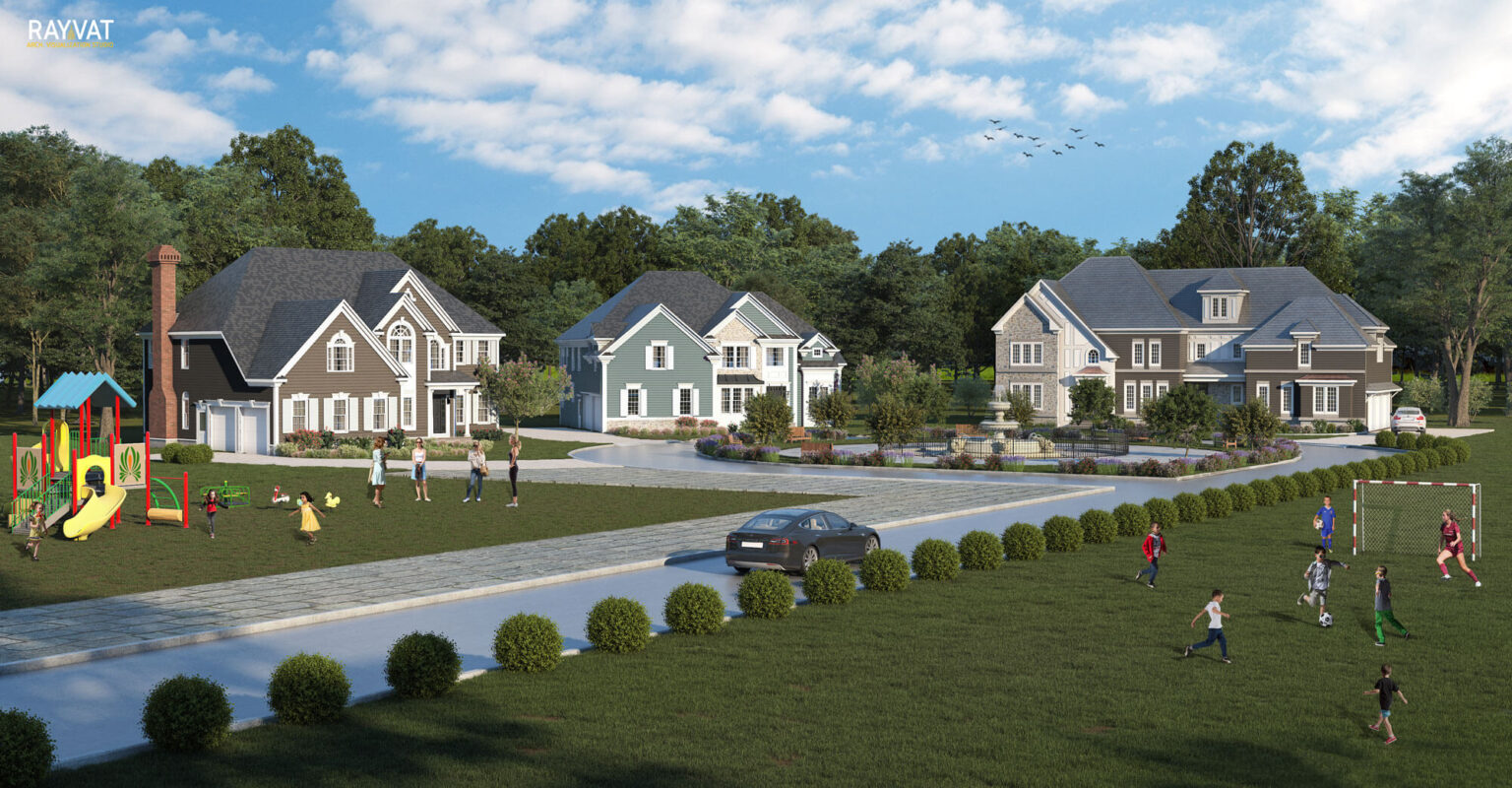 When you move into your new house, it's natural for everyone to want to put a personal stamp on the space. The finishes, fixtures and color patterns were probably chosen by the previous homeowner. Unless, of course, you've built yourself your dream home. So where to begin if you want to personalize your new home?
20 Tips should help you to make your new place feel more like home:
Paint the front door
Painting the whole exterior would take too much money, not mention money. So just painting the front door takes a lot less commitment. Choose your favorite color and consider also upgrading the hardware and changing the lock. 3D Exterior Rendering Services help you choosing the exterior material and design.
Put up personal photos
One of the easiest and quickest way to make the space in your new home feel more personal is by hanging up on the wall some favorite photos. If you're not sure yet about the placement of furnishings and feel concerned about leaving holes in the walls with the nails, hang the photos on removable picture-hanging strips.
Upgrade the kitchen faucet
faucet in the kitchen looks like it has seen better days, upgrade it to a newer, sleeker-looking one. Such a simple change can really impact the feel and look of your kitchen. And the costs of such a change are relatively small. If you want an even bigger change, consider also swapping the hardware. If you'll be looking for a new kitchen faucet, go this Top Faucets Reviewed website to find the best kitchen faucet on the market.
Paint walls
Instead of painting the whole house, consider the just paint one or two accent walls. By creating your own color palette will make your home feel more like you.
Get fresh flowers
Adding a bouquet of freshly cut flowers can make the place feel a lot cosier and friendlier. So get some bud vases and display your favorite flowers around the house.
Choosing your own wallpaper for the bathroom
Choose a fun wallpaper print and put your stamp on the bath space. Here you can experiment with bold patterns and colors. However, remember that in this area the wallpaper should be able to withstand humidity and apply it outside the splash zone.
Place a fluffy rug
It's nice to have at least one area with a squishy, fluffy rug, which will make your house feel even more comfortable. If you're concerned about keeping it clean, place it in an area away from heavy foot traffic.
Complete cleanup
Complete thorough cleaning from top to bottom of the house. Choose great smelling natural cleaning products. By filling the house with familiar smells, makes it feel more like home.
If you're constantly losing your keys, make special space for them where you would be able to quickly grab them on your way out the door. You can install a row of small hooks or place a dish with stylish patterns.
Window treatment
Adding a decorating detail to your windows will make your place look more polished. It could be layered curtains, simple roller shades or textured bamboo blinds. Choose a window treatment that you would love.
Hang a piece of art
one great piece of artwork can do wonder for the look of the room. It can really enliven the space. So find a large-scale piece of art that would speak to you and choose a wall to hang it on.
Place plants around the house
Plants not only freshen the air, but also add personality and color to the room. You can choose either large houseplants or potted trees or opt for small potted plants that you can place on shelves or counters.
Create an area for your little ones
It can be a comfy area where they can read a book, a fun play area or a secret hideaway.
Create storage space
Getting the right storage in the right place will make your life so much easier. Think where it would be best to have shelving and cabinetry and make the most out of your space.
Add bathroom details
Don't want to do an entire bathroom remodel? Why not just add some smaller details that would freshen up its looks. You can change the faucets, towel bars or light fixtures.
Add some cozy comforts
Throw a snuggler on the couch, add some cushy pillows, place beautiful flowers and add plenty of lamp light. This will make the house feel more comfortable, personal and welcoming.
Consider outdoor features
Install a fire pit or hang a hammock. Create a barbecue area and place a dining table. Create a fun area where you, your family and friends could spend time.
When you looking for Personalize Your House then there are several things need to consider and design, 3D Rendering Services help you full fill these all requirement.
Contact here for Personalize Your Dream House.