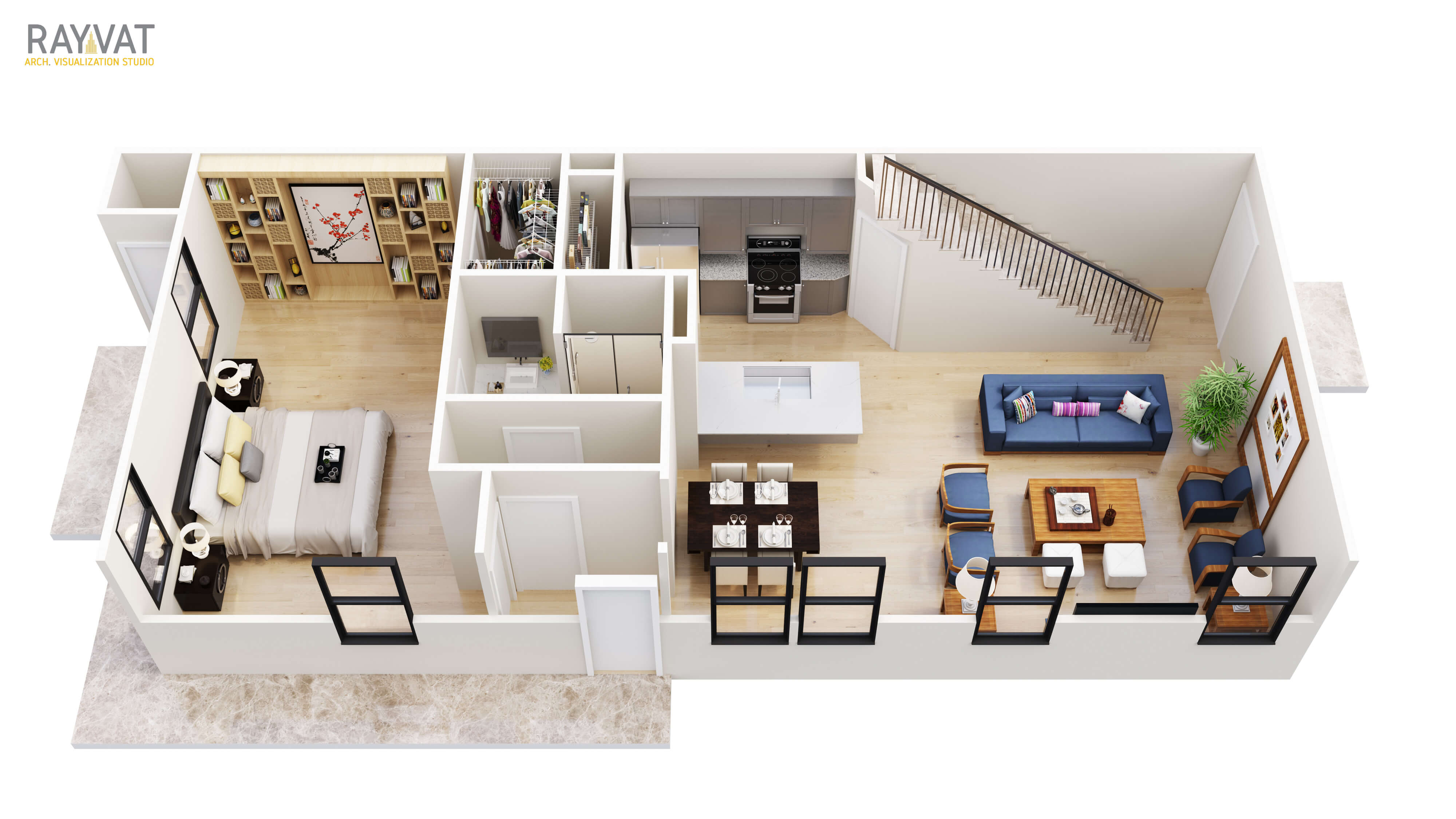 If you're looking to sell your property, your goal would be to get someone to sign on the dotted line as quickly as possible, with the least effort on your part and for the maximum amount you can get! Sounds easy? Well, as any property seller can tell you, it isn't quite as simple as it sounds. The real estate market is very competitive, and if you are looking to create an excellent property listing that gets noticed by potential buyers, then you must explore the possibility of adding a 3D Floor Plan to your listing.
What exactly is a 3D Floor Plan?
A 3D floor plan is a house floor plan that is drawn out to scale and rendered in 3D. It depicts the rooms and spaces with furniture and furnishings; even indicating colors, textures, and finishes. It adds significant value to your listing as it shows your property in the best possible light – not as it is at present, but as how it could potentially be. Customers can visualize the property as they would like to see it, with a well-designed interior and furnishings that make it look better than its current appearance.
A 3D Floor Plan adds value to the Listing for the Following Reasons:
Your listing gets more Attention
Pictures grab the attention of viewers far more than descriptions do. With a beautifully Rendered 3D House Plan in your real estate listing, genuine buyers are drawn to your page and stay engaged for longer durations, increasing the chances of them putting your property in their short list. A survey in 2013 by Rightmove Group Ltd suggested that floor plans are the best form of property presentation, and over a third of buyers felt that they were not likely to even look at a property that was without a floor plan.
Clear Imagery
Photographs do not give a view of the entire property, but only show it in parts. It is difficult to get an overall idea of how the spaces are related to each other. A 3D plan, however, gives a clear visualization of the property so that the customer can get a mental image of the layout. Your listing becomes more memorable and can remember the design can put your property ahead of others in the same area. They can see where each room is concerning other rooms and understand the flow of the property in a much better way. They will be able to understand the position of various rooms, doors and windows, terraces and balconies, and the garden and landscaping features.
Outstation Buyers can Save Time and Effort
A House Floor Plan will help your outstation buyers to shortlist your property for viewing. When they can understand the look and feel of the spaces even without visiting, the chances of them putting it on their shortlist are much higher. You will be able to seal the deal much faster when they are already having a clear appreciation of your property from afar.
Allow Buyers to Make Informed Decisions
3D House Plans are one of the proven marketing methods that can help to generate interest in your property listing, as well as give potential buyers the information they require to make their buying decisions. Detailed, high res floor plans are proven to increase the selling potential of any property and make it very easy to attract buyers to your listing. You can add the project to your brochures and flyers or even put it up on a signboard at various prime spots in town so that local prospects and people who are just driving past are aware that this property is for sale.
Buyers Prefer Listings Where there is a House Plan
The absence of a detailed floor plan has proven to be a barrier to the sale of the property. Time and again, home hunters have preferred to look at properties where a floor plan was part of the listing as against a listing where only photographs were displayed. A house floor plan drawn to an accurate scale, with room dimensions marked, is likely to get more views than any other.
Buyers can Easily Calculate Floor Area
Buyers who are not sure that your property offers value for money can easily calculate the actual floor area by looking at the dimensions on your 3D floor plan. When there are clarity and transparency, the sale is far likely to go through with ease.
3D Plans offer Value for Money
Today, rendering professionals have access to software that allows them to create views for clients in a shorter amount of time. As they can work quickly to create very realistic 3D house plans, they can cut costs and give you very affordable rates for their work. Most clients these days expect to see a well depicted 3D plan on your online listings, and many people will not even consider a listing that doesn't have floor plans. Don't get left behind; make sure that your listing is as comprehensive as it can be!
If you are trying to sell your property without a floor plan, you could be missing out on many genuine buyers! Why don't you explore the services of professionals like Rayvat engineering, who can help you get started with a house floor plan for your property listing? Call us today, and let's get started!