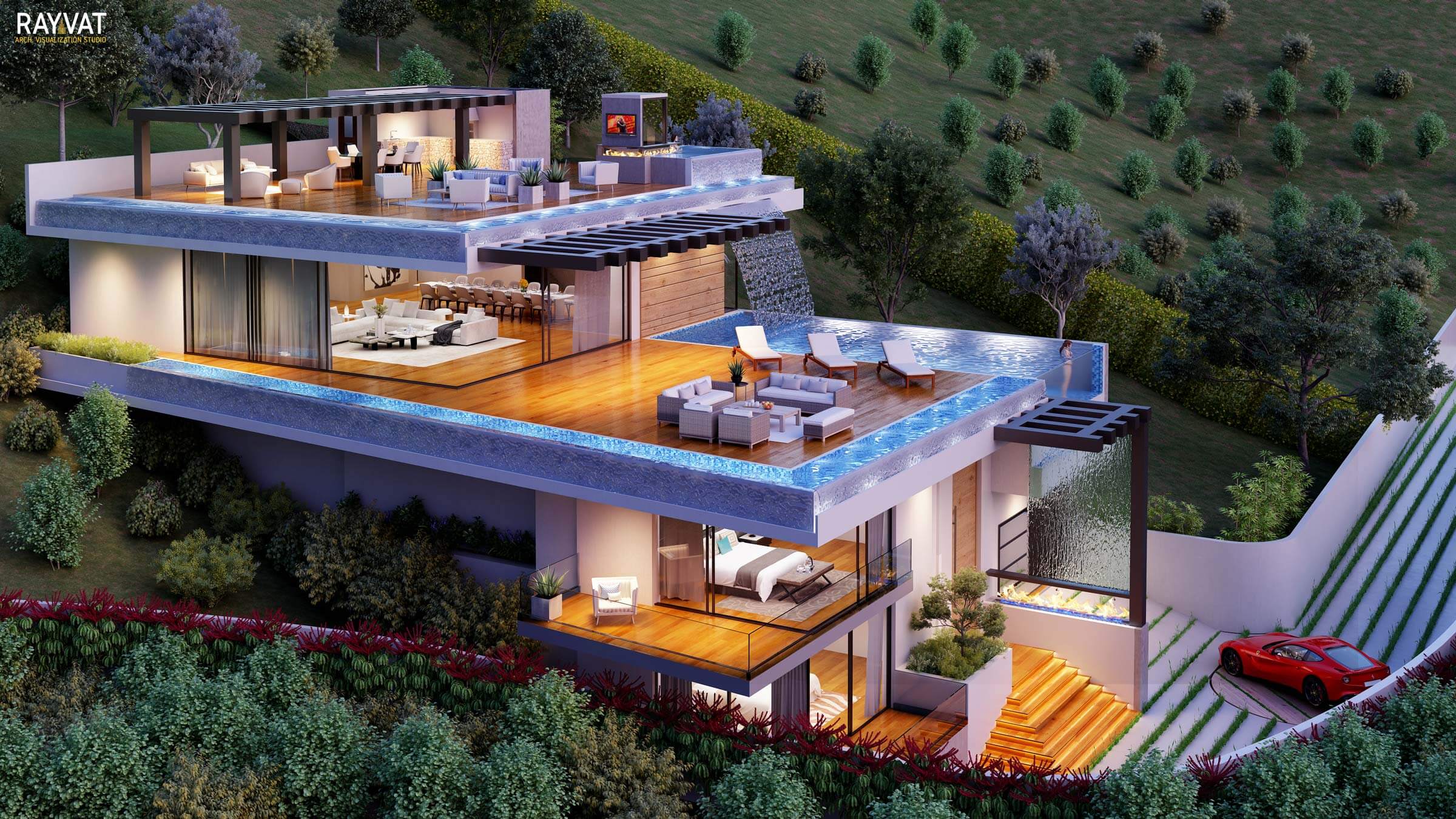 Owning a home is among the top dreams every individual would love to achieve. It is an empowering investment that allows you to live on your terms in a personalized space. Living in your dream home is motivating and gives you the peace of mind you need to achieve other life milestones. At Rayvat Rendering, we appreciate the importance of building your dream home, and this is why we deliver cutting-edge 3D Architectural Visualization Services to your project. If you have plans to build a home, we want to make things more accessible through our innovative photorealistic rendering.
We have an experienced team of artists who will visually render your ideas before the project starts to guarantee you build that dream home you have always desired. With 3D Dream Home Rendering technology, we can now bring to life your ideas and ensure you build that dream home. However, bold your building ideas are, we are glad to be of help. Our team has revolutionized the real estate industry, and we invite you to experience this ground-breaking technology and make your dream home a reality.
Simplifying Traditional Blueprints
Understandably, most homeowners despair during the planning stage of their properties because they can't understand the complicated plans presented by architects. Traditional blueprints only made things more complicated for homeowners, and they had to cross their fingers until the building started taking shape. Our team understands this, and we leverage the latest Computer-Aided Design (CAD) software for our House Rendering Services. Our artists will work closely with you to bring your idea to life.
3D Interior Rendering
We appreciate that every aspect of your home matters and while much of the focus is on the overall look, we go to extra lengths to create interior renderings. Our 3D Walkthrough Technology allows us to present your home's interior. With our visual images, you can now view the interiors of buildings and plans of construction. This vivid interpretation of the construction gives you confidence that your dream home will finally come to be.
Revise Your Home Plan
Even the best-laid building plan might require some revisions for many reasons. When working with our team, this is not a big problem because we can edit any architectural design aspect and make the necessary changes. Now that your home is the most significant investment you can make in life, we want to help you count. Through a Photorealistic 3D House, it is easier to see areas that need rethinking, and you can make such changes on the go when collaborating with your builder.
Dependable 3D Rendering Solutions
At Rayvat Engineering, we promise to deliver the best services to make your dream home a reality. We have worked with thousands of Happy Real Estate Developers, and we invite you to experience our redefining building technology. We deliver the best turn-around, and our pricing is unmatched. We have invested in the best pool of 3D Rendering Artists, and for your project, you will get a dedicated, experienced English-speaking designer. Our customer support team is available around the clock in case you have any queries.
We welcome you to try our cutting-edge photorealistic rendering and let's help build your dream home.