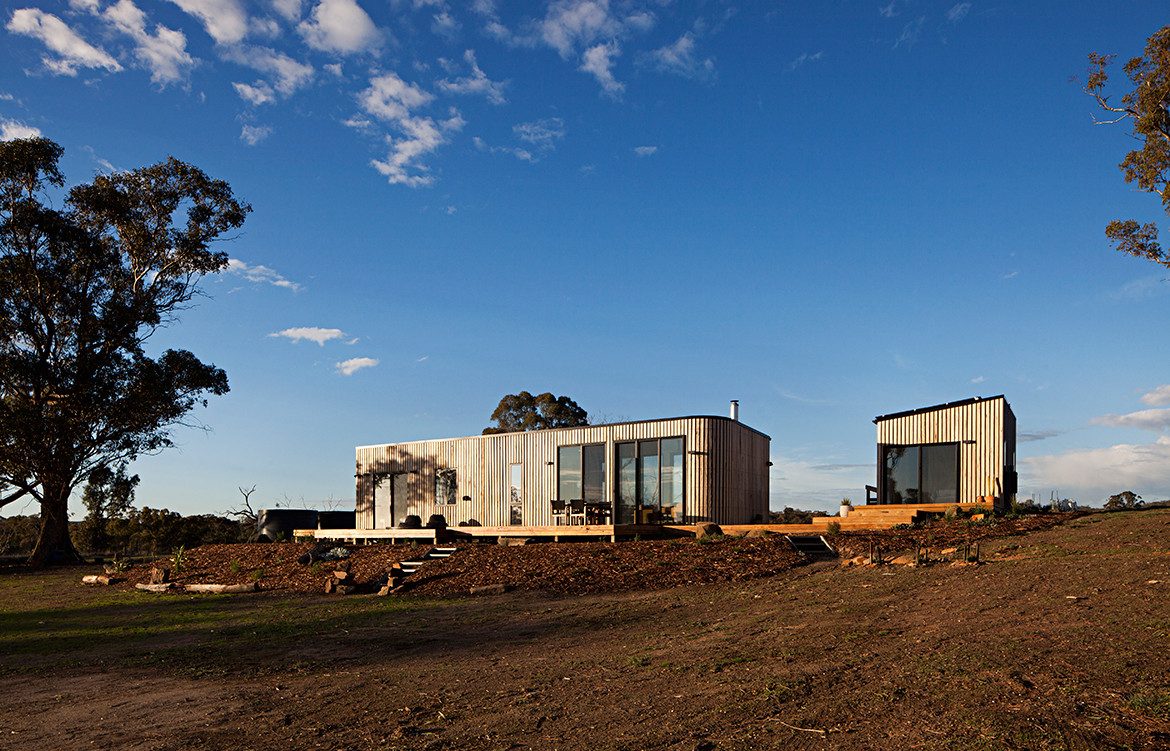 As the demand for modular homes continues to grow, we look at five Australian examples that disrupt the out-dated stereotypes.
The benefits of prefabrication have become increasingly recognised within Australia's residential sector and, as an industry, it's burgeoning. At a micro level, prefab homes (or modular homes) are an affordable building option for clients mindful of budget. However, at the macro level, many believe it has a role to play in alleviating societal housing crises.
Certainly, the pros can be rattled off like a shopping list: reduces waste and is environmentally sustainable, promotes safety because construction takes place in a controlled factory setting, saves time during construction, cost-effective because of the reduction in on-site work and promotes the use of lightweight materials that aid in passive design, to name a few. The following five projects by some of the very best in the business disrupt outdated stereotypes of what prefab homes looks like.
Clydesdale House, Archiblox
Archiblox's Clydesdale House comprises two separate quarters – the main house and a guest pod, both of which were prefabricated and constructed off-site. This was the most cost-effective building option for the clients due to the remoteness of the rugged 8.5-hectare site and once the lightweight timber modules were transported by truck to the property, all on-site work only took three weeks. It's the quintessential Aussie getaway and appeals as much for its robust exterior as for its relaxed yet elegant interior. Clydesdale House is also an excellent study in passive design and kit homes Australia to achieve a high degree of comfort, from the correctly oriented quarters that enable cross ventilation to the positioning of the guest pod so it doubles as a shading device for the main house.
San Remo House, Ecoliv
Located in the small town of San Remo, this holiday home sits on the mainland end of the bridge to Phillip Island in the Gippsland region of Victoria. The clients wanted a striking home that captures expansive views of the ocean and landscape while engaging with its surrounds and utilising sustainable materials and construction methods to ensure long-term minimal environmental impact. Ecoliv has delivered on the brief with a home comprising two modules that connect to provide a streamlined layout proving to be an efficient use of internal space with perfectly framed ocean views. While the pool is cleverly incorporated within the building envelope, appropriate glazing, orientation and insulation guarantee natural temperature controls at all times.
Ivanhoe Extension, Modscape
Modscape's clients decided on a two-storey modular extension to accommodate their growing family and the result is a striking addition that adds character to their weatherboard home. The upper level's curved form and battened timber screen is the design's most compelling expression, also functioning as a sun shading and privacy device. While the new internal living areas are made all the more inviting and relaxed because of the full-height glass doors that open up to an outdoor dining area and backyard. During off-site construction, (which is possible with prebuilt homes and additions) the clients remained in their home disruption-free, moving out four weeks prior to installation of the modular homes component, which only took one day, followed by another three weeks to complete all on-site work.
Belmore Home, Mode Homes
Belmore Home is exemplary for its strikingly simple, minimalist concept and form. The one-bedroom, one-bathroom pavilion sits on a hardwood deck and is clad in timber board and battens. It's a modest sized dwelling, often the case in prefab cabins, but the open plan of the living areas, along with the generous ceiling height makes it highly efficient and extremely comfortable. Full-height double glazed doors open out to the north-facing deck and so the interior also receives plenty of natural light. But it's the warm plywood-lined walls that make this project so memorable, providing a perfectly neutral background for the client's stylishly Scandinavian, modernist-inspired aesthetic.
St Andrews Beach House, Prebuilt
Prebuilt's prefab homes are designed by their partner architects Pleysier Perkins and built in the factory in a matter of weeks then installed on-site in a few days. Their recently completed St Andrews Beach House on the Mornington Peninsula is embedded within its rugged sand dune location, providing the clients with a perfect sanctuary. The project's robust materiality protects it from the harsh southerly winds blowing across Bass Strait, while generous glazing means they can still enjoy views of the surrounding coastal landscape. Prebuilt has a green approach that informs all areas of construction in modular homes and prefab homes, from utilising plantation and recycled timber and water-saving plumbing fittings to offering clients grey-water recycling systems and solar hot water.
Source: https://www.habitusliving.com/architecture/five-australian-prefab-houses