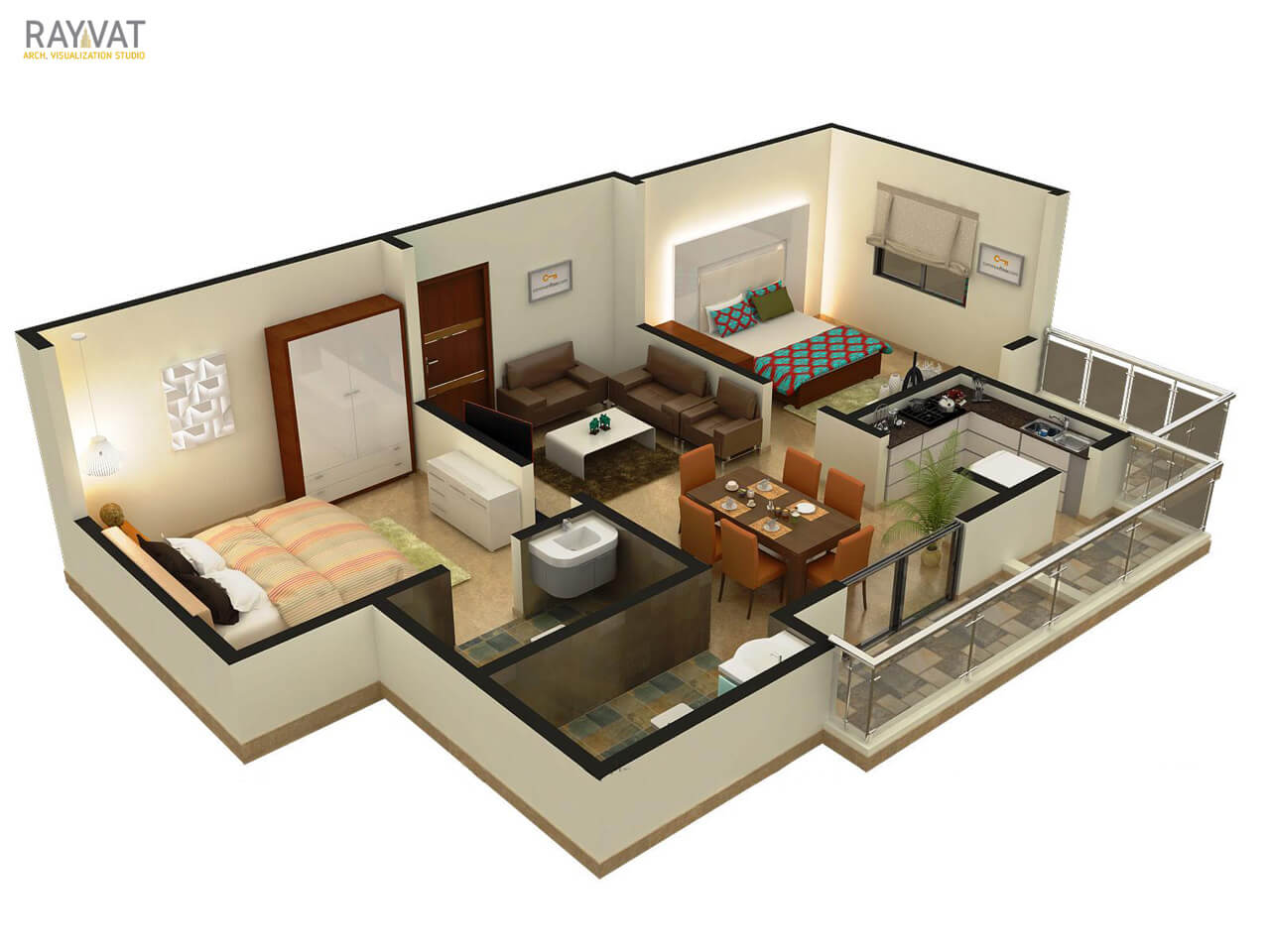 In order to avoid getting disappointed when moving into your new house and realising that the floor plan for some reason doesn't work for you, it's better to think of it in advance. Many homeowners make some common mistakes when choosing the best 3d floor plan design for their home. Whether you're designing your own floor plan or just hunting for that perfect apartment or house, these 10 common home floor mistakes will help let you know what to avoid and help you learn how to find the right plan for your needs.
Not every floor plan will fit your lifestyle
Before choosing one or the other floor plan it's important to begin by assessing your lifestyle. Would you prefer a single story or multistory house. Should there be individual rooms or an open floor plan? Picture your family cooking in the kitchen. Imagine where your kids would play. Determine what would make it a comfortable home for your family.
When touring a model home picture it without all the upgrades
Home stagers and contractors would often try to upsell the place with all the upgrades. So when touring through the developer's models homes and before deciding to buy one or the other, try to strip the place in your mind of all its gorgeous finishes, drapery and wallpaper. Instead, focus more on the layout and flow of the rooms.
Ask about the symbols and nomenclature on the floor plan drawings
If you're looking for a new one or redesigning your old home, more than likely sooner or later it'll come to reviewing floor plan drawings. For most design professionals all the symbols and nomenclature might be second nature. However, don't assume that you're supposed to understand all that as well. So don't make the mistake of not asking for explanations.
Make sure that the architectural features will not add costs in the future
It is easy to get swept up by architectural features that look amazing on the floor plan and even better in a finished home. But keep in mind, that such features (for example, high floor to ceiling windows) could impact your heating and cooling energy bills. It might not be a concern at the moment, but consider green cost savings for future too.
Make sure that your furnishings will fit on your home floor plan
Don't just assume the size of the rooms to be adequate. It's important to measure all your furnishings beforehand to make sure that will fit into your finished home. If you're not sure how large the rooms should be. Start by measuring all your furniture and then decide how much room you actually need. And then some extra space. You can click here for the complete 3D Floor Plan Portfolio.
Imagine extra space for entertaining guests
When your home will be finished, think how nice it will be to have some friend or co-workers over for drinks. Or would it be nice to have the in-laws staying over the weekends? So if you love to entertain, consider adding to your home floor plan extra space for mingling, eating or dancing.
Safety for your little ones
If you've got a full family, safety should come first when planning amenities. Some features might look great for adults but are not safe for kids. For example, expansive windows, stairs without railings, balconies, and other features.
Location
Remember that while you can rethink and change your floor plan in the future, changing the location will not be possible. So before falling in love with a certain floor plan, don't forget about the surroundings of your home. For example, the master bedroom floor plan might look great, but if you don't like how it looks over the street, in the end you will be disappointed. So when choosing a floor plan, also ensure that it will fit with the location of your house.
Make sure that the floor plan fits your budget
It's better to plan for the present than to overspend for the future. So don't get oversold by the agent and don't go over your budget. In the future you can always do upgrades, be it doing better finishes or innovative additions.
Let the whole family take part in choosing the floor plan
Don't keep that decision all to yourself. So bring your family or whoever you will be sharing the home with along for viewing the physical models of homes. They will be able to share their ideas and preferences and the end decision of choosing the floor plan will be ideal for all.
Contact us here for the 3D Floor Plan Rendering services on affordable pricing.